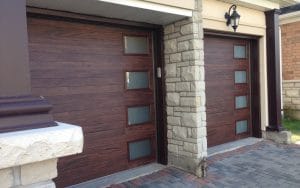 Good quality modern doors provide a high level of protection against potential intruders but it is important to avoid compromising this protection by making basic mistakes or failing to take adequate precautions as recommended by leading manufacturers. Integral garages are a common feature of homes in Toronto and other cities across the country, which means that any weak points in garage doors could compromise the security of the entire property in which they are installed. With this in mind, we have put together a short guide to help you make the most of the security features that modern doors come with and keep your home safe at all times.
Tips to Make Modern Garage Doors More Secure
Follow the suggestions below to make your home as secure as possible once your new garage door has been fitted.
Never Leave Your Garage Door Open – Even in low-crime areas such as Richmond Hill and Vaughan, it is not a good idea to leave your garage door open when you leave your home during the day. Burglaries may be less common during daylight hours but if you leave an open invitation to local criminals, you can expect that one day, one of them will accept! Always close your garage door and use whatever locks it is fitted with to prevent intruders from gaining entry via this route.
Do Not Leave Your Door Remote in Your Car When Parked Outside – If you often park outside your garage, perhaps because you have more than one car in your family, it is not a good idea to leave the remote in your vehicle. Almost all automatic modern garage doors available in Toronto come with a remote control that can be used to open the doors in question so anybody who manages to break into your car could then break into your home with relative ease.
Choose a Door Strong Enough to Withstand Attempts at Forced Entry – Whatever style of door you wish to install in your home, you need to make sure it is constructed in such a way as to make it difficult for potential intruders to make a forced entry through your garage. Modern garage doors with a solid wood or steel core are the best choice although those made from reinforced glass are also strong enough to act as an effective deterrent to local criminals.
Fit a Deadbolt to Your Interior Door – The door that leads from your garage to your home should be fitted with a deadbolt, to make it harder for burglars to gain entry by this route. Whether you live in Vaughan, Richmond Hill or elsewhere in the GTA, you can make your home significantly more secure with this simple tip.
Install Exterior Lighting – Burglars are not keen on drawing attention to themselves, for obvious reasons, so it is a good idea to make sure that the exterior of your property is well illuminated at night, whatever type of modern garage doors you are planning to install. A light linked to a motion sensor is ideal for this purpose and will ensure that anybody attempting to tamper with your new door is clearly visible to other residents.
All of the above measures will help to make your home more secure but you also need to ensure that the people you hire to perform the installation are experienced in fitting modern garage doors and know exactly what they are doing. If you do not want to take any chances, call Smart Doors today to discuss your requirements and to request a free quotation.