Break-ins can be very dangerous; not only for your property, but for you and your family as well. This is why security is such a priority for the home. In Toronto, there were over 8,000 breaking and entering cases, higher than in the previous 3 years. One of the easiest places that a burglar can enter your home is through your garage door. This is because it's a large opening that's frequently opened and closed throughout the day. Garage doors can also be very easy to get into. In some cases, just a coat hanger is already enough to snag the garage door opener's manual override and open your garage door from the inside! Someone breaking into your garage can mean thousands of dollars in stolen property. This is why garage door safety is a big concern.
Good thing that there are a lot of new products that can help you keep your garage more secure than ever before. New advances in technology have created better garage door openers, more powerful sensors, and higher-resolution cameras. All these can come together to create a better-monitored environment for your home, which in turn will dissuade potential intruders.
Here are three recent products meant to keep your home more secure than ever before:
Google Nest Cam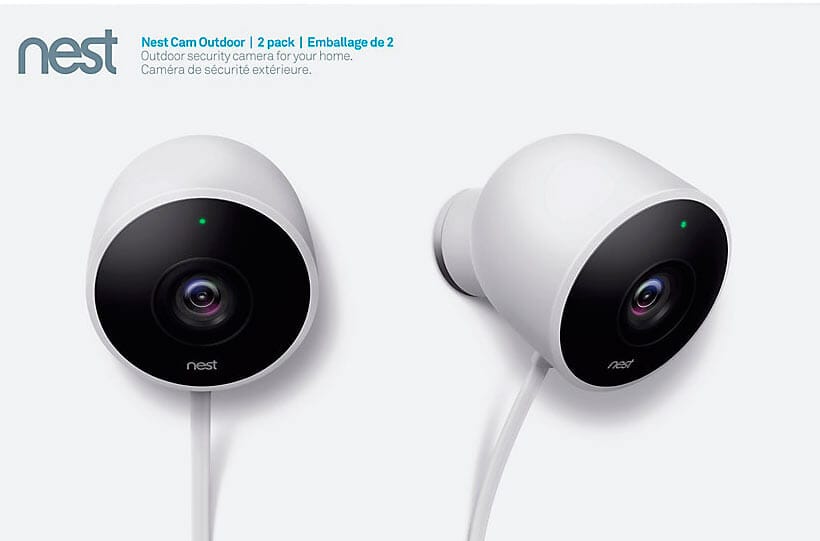 Google is a company that's always been at the forefront of the most cutting-edge technology. Their foray into home security led them to purchase Nest in 2014. Nest is a modern, fully integrated upgrade to the old security systems of years past.
The Nest line of products is one that aims to integrate all the essential services of your home into the Google Home infrastructure. For your home's security, the Nest Camera line is there to provide state-of-the-art protection for your home. 
Integrated into Google's infrastructure, the Nest Camera can provide real-time updates to you. Its camera is full HD, and the more advanced models even have facial recognition software that can alert you as to when a person may be at your garage door. It also provides 24/7 recordings that last a month so you can review what happened if there is ever an intruder.
Ring Security System
The ring is one of the more popular fully integrated alternatives to the Google Nest when it comes to smart home technologies. It provides mostly the same equipment and functionality as Google Nest's Camera. But Ring's primary focus is entirely on home security.
Aside from real-time surveillance that you can take a look at anywhere so long as you have a device connected to the internet, one of the Ring camera's most distinguishing features is its two-way speaker system built into the cameras. This means that once you're alerted to a potential break-in of your garage, you are able to actually talk and call out remotely to dissuade and chase off any would-be intruders.
There is also the Ring Neighborhood App. Which is an app that takes home security and shares it with the neighborhood. You can get real-time updates from your neighbors about suspicious activity around your community from anywhere in the world. Ring also works with local law enforcement in order to assist communities that use the app. While this program is only limited to the US at the moment, it has had great success and it's reasonable to expect it to be rolled out to Toronto and the rest of Canada sooner or later.
Chamberlain MyQ Garage Hub
The Chamberlain MyQ Garage Hub is a security solution that provides a direct upgrade to your existing garage door opener. Despite the branding, the MyQ Garage hub is actually compatible with most garage door opener manufacturers.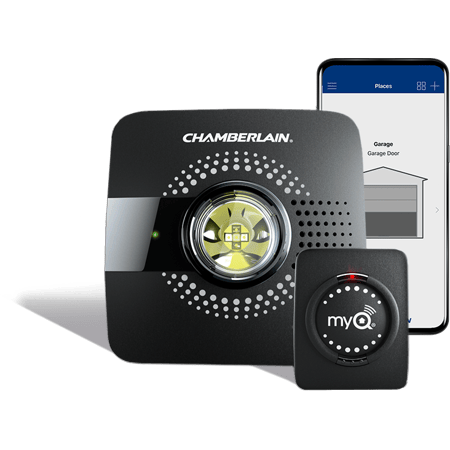 This garage door upgrade converts your previously wireless-only garage door opener turns it into a wi-fi ready, state-of-the-art smart device. You can access it with the MyQ app which gives you real-time notifications when your garage door is opened. So you know whenever anyone unauthorized might have opened your garage door.
The MyQ Garage Hub also integrates your garage door with other MyQ solutions like garage and outdoor lights, consolidating your home's security under one system.
Technology isn't the only thing you should rely on…
Despite these three high-tech advances in garage and home security, the most important part of maintaining garage door safety is still for you, as the homeowner to do your due diligence in keeping your home secure. So here are some basic home safety tips focused on your garage:
Keep your garage door closed at all times

– it's tempting to leave it open when you're working in your yard, but unless absolutely necessary, you should keep it closed to prevent would-be burglars from scoping your garage out, as well as stop the ones brazen enough to sneak in and grab something while you're distracted.

Lock your Garage Door When You Aren't Home for Extended Periods of Time

– When you're leaving on a trip, make sure you lock your garage door to make it more difficult for intruders to break in by taking advantage of the natural gap in your garage door to reach the manual release.

Make sure your garage door is properly balanced – A balanced garage door means that when it's closed, the garage door is flush against the ground. If the garage door is raised slightly to one side, that means it's unbalanced. Intruders can use this to their advantage and break in when they aren't paying attention. Call your Toronto garage door company to perform a fix for you.
Make sure your garage's other entrances are properly locked

– If you have a garage separate from your home, make sure that the locks to the other doors and windows are all secure and can't be easily broken into. If any of the locks aren't working or seem loose, make sure to get them fixed or replace them. 

Consider replacing your old Garage door

– If you've had the same garage door for years now, chances are that it may be time to replace it. Deteriorating materials and rusting mechanisms are not only a risk for break-ins, but also a much bigger safety risk for you and your family. 
Smart Doors is ready to assist the Toronto homeowner with all their garage door installation and repair needs. If you're in the market for a replacement, don't hesitate to contact us at 905-532-9770 for a free estimate, or check out our garage door replacement and installation projects for design inspiration.